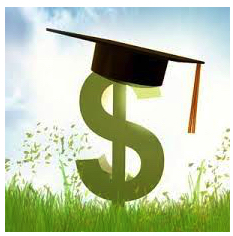 1. BECAUSE COLLEGE IS EXPENSIVE SCHOLARSHIP
Are you a United States citizen and a high school senior or college undergraduate student? Then you can win $500. Nope, no other qualifications. Just be what you already are.
The $500 "Because College is Expensive Scholarship" is open to all students and those planning on enrolling within 12 months. The winner will be determined by random drawing and then contacted directly and announced on the Scholarship Winners page. One entry per person is all that is necessary.
It truly doesn't get easier than that.
2. U.S. BANK SCHOLARSHIP
Each year, U.S. Bank gives away 40 $1,000 scholarships for simply being an American citizen who will be or is attending college. All you have to do is fill out some basic information about yourself to enter the random.
3. "NO ESSAY" SCHOLARSHIP
The nice thing about the $2,000 "No essay" Scholarship is that it comes once a month and you can apply every single month.
And the application is as easy as can be. In fact, you could have filled it out probably 10 times already since starting to read this blog. You can only apply once a month, but if you're a current or incoming college student and know basic information about yourself (name, address, etc.), then you can win $2,000. Winners are drawn at random.
4. $1,000 WEEKLY SCHOLARSHIP
Even better than once-a-month scholarship is one that is once a week. Granted, the Zinch.com weekly scholarship is not as simple as merely filling out basic information about yourself, but it's almost that simple.
All U.S. high schoolers and college students are eligible for this $1,000 scholarship. All it requires is filling out a short form about yourself and answering an unusual question in 280 characters or less and the best part is that the question changes weekly. You can apply every week, once a week. Have fun with your answers.
5. SCHOLARSHIP ZONE SCHOLARSHIP
Simply register on their the website (which requires answering less than 15 basic questions about yourself) and you're automatically entered for the next scholarship drawing of $10,000. It takes only a couple of minutes and is easy to apply?
Before reaching out for student loans, exhaust all possible resources. We have given you some easy ones to think about and should take advantage of.
If you strike out on scholarships, remember to exhaust your federal student loans first before turning to private students loans. Check out Cedar Ed Private student loans for quick and easy loan comparisons.