If you have a student loan with a high interest rate or are making multiple student debt payments each month, you may want to consider a refinance or private student loan consolidation.  Student loan refinancing can help recent graduates lower their private and federal student monthly payments.  You may also benefit from refinancing your single high interest rate loan into a lower, into a more manageable payment & term.
Here's an overview of the benefits of working with Cedar Ed Lending:
Consolidate/Refinance between $5,000 and $125,000 in undergraduate private and federal student loan debt, and up to $250,000 for graduate students.
Rates starting at 6.61% (with 0.25% autopay reduction) with multiple term options*
You could be saving thousands of dollars when you refinance your student loans
Cosigner release available after 12 consecutive on-time principal and interest payments.
No hidden fees or obligation.  No origination fees or prepayment penalties, and no impact on your credit when  you check your rate & terms

!
The benefits of consolidating several different student loans into just one are numerous. First, you save money on interest payments over the term of your loan. By consolidating your loans,  you can start to plan for your future.  Maybe you save for a down payment on a home or invest for retirement. Moreover,  you can rid yourself of the headache of remembering all your due dates and payment amounts. In the process, you can even change your variable interest rate loan to a fixed-rate loan.
While most young adults are likely prime candidates to consolidate their student loans, many are unsure or even intimidated by the process. Below, we will discuss benefits of federal student loan consolidation and private student student loan refinancing.  We discuss the pros and cons of consolidation, eligibility, and the loan process.  You will have all of the information you will need to provide to get the best loan refinancing available.
Should You Consolidate?
Students who rely on loans for paying their college tuition and other expenses can easily end up having 5 to 10 different debt obligations with 2 or 3 loan servicers, all asking to be repaid soon after graduation. And, if you are planning to go on to graduate school, this number can be even higher by the time you get your higher degree.
Typically, each of the loans you have will also come with their own rate of interest and monthly due date, so keeping tabs on each loan balance and figuring out what is due when can become quite a challenge. If this is the case, then consolidating these loans could be an ideal solution.
But, before you do, it is important to be sure that you understand exactly how much you owe and the weighted average interest expense of your student loans. This is because some lenders just want you to refinance or consolidate so they can earn a fee, meanwhile settling you with loans that may actually cost you more.
Fortunately, companies like Cedar Ed have no-obligation processes meant to help you explore your options with some of the best banks and lenders.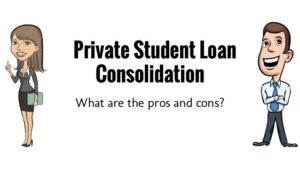 Learn more about Private Student Loan Consolidation!
Fewer Outstanding Loans
As discussed before, one benefit of consolidating your student loans is lowering the number of monthly payments you have to make. Depending on the number and type of your original student loans, you may even be able to roll multiple monthly payments into just one. This can make paying off your loan a lot more convenient.
Lower Interest Rates and Payments
You may also be able to lower your student loan payment amount that is due each month. By comparing your repayment options and a lender that is willing to offer a lower interest rate, you may be able to lower your student loan interest rates and therefore your monthly bill.
Longer Term Periods
A way to get a lower interest rate on your student debt, an may be to refinance for a longer period of time.  Extending your loan term from 5 or 10 years to 15 or 20 years will increase the total interest paid over the life of the loan.  However, it can make your monthly payments more manageable.  This can be a benefit for young adults struggling to pay their bills due to other outstanding debt, such as credit card or medical debt.
Variable vs Fixed Interest Rates
Refinancing and consolidating your student loans from variable  into a fixed rates can provide some stability knowing your payment. For instance, if the rate on some or all of your loans is variable, then you run the risk of having the amount that you owe increase in the future, even if you took out a loan at the lowest rate possible at the time.
Better Terms and Conditions
Most government-backed student loans will offer at least a few options for repayment.  Consolidated loans may be able to offer you a wide variety of different repayment alternatives. Some of these may include income-based repayment plans.
Factors To Consider for a Private Student Loan Consolidation
While there are several benefits to consolidating your student loans, there are also a few things that you should consider.  One such factor is that, by refinancing, you may end up extending the length of time that you have payments.
For instance, if you currently have ten years of payments left on your loans, you may be able to lower the amount of your monthly payment.   However, you could also be lengthening the time until the loan is paid off.  It could also mean that the total amount of money that you repay will be more after you refinance.
Are You Eligible to Consolidate Your Student Loans?
Before you are able to move forward with a student loan consolidation, you will need to make sure that you are eligible.
So, if you have a mix of different types of loans, then you will need to first ensure that the loans are eligible.  It is possible, however, to consolidate federal student loans with a private student loan consolidation program. If you are having trouble determining whether you are eligible or not, contact us for assistance.
Applying for a new private loan to consolidate will generally require that you have a good credit score. However, if you have not yet built up a solid credit score, as most students  have not, then it will likely mean that you will need a cosigner.
After you have made a number of on-time payments, it is possible that the lender will release the co-signer. The time frame for making these payments can range from 12 to 48 months.
Consolidation vs. refinancing
|   | Student loan consolidation | |
| --- | --- | --- |
| | Combines multiple federal loans into one federal loan. | Combines private and/or federal loans into one private loan. |
| Which loans can I combine? | | Private and/or federal loans. |
| | | |
| | Maybe- Consolidation may lower your payments by extending the loan term, but you may pay more over the life the loan.  You also may benefit from income driven repayment plans. | |
| Can I access federal loan protections, repayment options and forgiveness programs? | | |
| Will I pay just one monthly bill? | | |
How to Start The Private Student Loan Consolidation Process
Once you've made the decision to consolidate your loans and provided the lending company your personal information, there is very little left for you to do.
The private lender will use your name, loan amount, social security number and various other details to locate your loans.  Once complete, you will be presented with your new interest rate, term period, and terms and conditions for approval.
Should you refinance student loans?
If you have private student loans, refinancing student loans might get you a lower interest rate or reduced monthly payment (or both), which could help you more easily manage your loans post graduation. You can easily check rates and potentially prequalify for a much lower rate than what you have right now.
Taking The Next Step
If your student loan payments have become a financial burden, or if you're just looking for a way to simplify your finances and bills going forward, then consolidating your student loan balances could make sense for you. Start the process now, with no-obligation, and see what interest rate you qualify for.
If you have any questions or think you need additional research, please feel free to check out our blog for information on how to pay off student loans faster, interest rates, student debt statistics, tax credits for loan interest payments, and so much more!
FAQs
The Cedar Ed Private Consolidation loan allows you to consolidate multiple private and/or federal student loans or refinance a single private student loan. This can potentially lower your monthly payment by opting for a lower interest rate or extending the loan repayment term. Keep in mind that extending the repayment term may increase the  interest you pay over the life of the loan.
Scholarships
Make sure you exhaust all potential school scholarships or private scholarships.  You can check out out list of Cedar Education Easy Scholarships which you may be qualified for.

jNoel1237 -Verified Reviewer
1/31/23
awesome experience!
getting my loans consolidated has been awesome.  I was easy to use the website with great customer service.  I would recommend them to anyone!
smith3430- Verified Reviewer
1/7/23
Seamless transition
I could not have asked for an easier process refinancing my loans. The majority of the process was completed online. I only had to call one time because I had a question. I was answered promptly and extremely satisfied with their customer service.
phoebegrad1-  Verified Reviewer
12/23/22
Quick and Easy
Got a awesome rate and better term. Application was simple. To complete full app took only a hour or so with the proper documentation already prepared. Approval was within a few hours. Got funds to other lender and paid off within 30 days. Very happy.