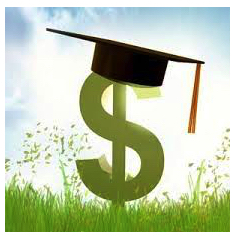 What characterizes "easy scholarships" or "no essay scholarships" other than the obvious fact that it requires minimal application process and is open to a diverse group? For those pressed on time, easy scholarships are a sensible choice. Scholarships already help provide tuition assistance for college or grad school, but easy scholarships go beyond to make this process even simpler. Also, don't let a low GPA scare you away from applying as these scholarships don't look at your grades.  Hopefully, the process will be gratifying, and that you will have a good chance at winning easy scholarships.  Here's our list below (hopefully your dog can type- albeit not that much!)
Our list of 2020 Easy Scholarships:
1) 
Because College is Expensive Scholarship
Are you a United States citizen and a high school junior or senior, college undergrad, or grad student? Then you can win $500. Nope, no other qualifications. Just be what you already are.
The $500 "Because College is Expensive Scholarship" is open to all students and those planning on enrolling within 24 months. The winner will be determined by random drawing monthly and then contacted directly and announced on the Scholarship Winners page. One entry per person is all that is necessary.
It truly doesn't get easier than that.
2. The ScholarshipPoints $10,000 Scholarship
This $10,000 Scholarship does not require a GPA or an essay, Great thing is it takes about 2 minutes to enter.
The nice thing about the Scholarship is that it's quarterly and you can apply every quarter.
And the application is as easy as can be. In fact, you could have filled it out probably 10 times already since starting to read this blog. If you're a current or incoming college student and know basic information about yourself (name, address, etc.), then you can win $10,000. Winners are drawn at random.
3. $1,000 You Deserve it Scholarship
The You Deserve It Scholarship is one one of the tops when it comes to easy scholarhsips. When you create an account, you will automatically have a single application submitted on your behalf to apply to enter the monthly Scholarship. As a bonus, without any further effort,  you can apply to hundreds more  scholarships automatically.
4. $1,000 Easy Money Scholarship
The Cappex $1,000 Easy Money Scholarship  is a no brainer and offered every month! There is no GPA requirement and no essay to write.  In fact, all you have to do is create a profile and fill out what you do in your free time.
5.  $10,000 Scholarship Contest
Students just need to register for the CollegeXpress Scholarship.  You do not need to complete an application for this scholarship. The winner will be chosen in a random drawing.
6. $10,000 "Be Bold" Scholarship
Enter the $10,000 "Be Bold" Scholarship no-essay scholarship. It will be awarded to the applicant with the boldest profile.
7. $1,000 Monthly Scholarship
Register to enter the $1,000 monthly sweepstakes.  Plus make some extra cash to pay for school, books & food by answering a couple of questions!
8. $5,000 Quarterly Scholarship
Sign up as an apprentice (takes 2 minutes). Complete your profile and choose what skills and industries you're looking for. Build relevant skills, gain hands-on work experience, develop a network of industry professionals and who knows, maybe you will also win $5,000!
9. $2,000 Niche No Essay Scholarship
The scholarship is open to all high school and college students and those planning to enroll in the next 12 months. Simply log in or create a free account to apply.
10. $1,500 Make Me Laugh Scholarship
Tuition expense is no "laughing matter"(pardon the pun!). To enter this scholarship just describe an incident in your life, funny or embarrassing (fact or fiction), and make them laugh!" (250 words or less).
11. $1,000 Survey Sweepstakes
Take short surveys and make some extra cash to help pay for school and books.  Easy to enter and complete! Open to students, parents, and recent alumni.
12. Sallie Mae $1,000 Monthly Sweepstakes
Entrants only need to register online to enter this monthly sweepstakes.
13. $1,500 Do-Over Scholarship
To enter, write in 250 words or less-  if you could get one 'do-over' in life, what would it be and why?"
14. $500 Courage to Grow Scholarship
Please explain in 250 words or less why you believe that you should be awarded this scholarship.
15. $1,000 Emoji Scholarship
To enter, tell them which emoji best describes your life and why for the chance to win $1,000 scholarship for school or student loan payments.
___________________________________________________________________________
Before reaching out for student loans, exhaust all possible resources. We have given you some easy ones to think about and should take advantage of.
If you strike out on these easy scholarships, remember to exhaust your federal student loans first before turning to private students loans. Check out Cedar Ed Private student loans for quick and easy loan comparisons.