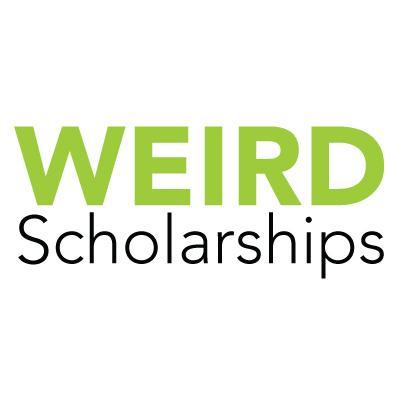 With college tuition costs rising every year, students look more and more for some type of way in which they can receive financial relief in covering the costs of pursuing a higher education. Well, after doing some research on "weird" scholarships, I can tell you in confidence that there is a scholarship for absolutely anyone. No really, I mean it, anyone. Zombie Enthusiast? Check. Potential potato industry kingpin? Covered. High schoolers who just so happen to caddie in the summer? Yep, them too. The list doesn't stop there, so check out some of the weirdest scholarships below, and see if you just so happen to be eligible. If none of these weird scholarships excite you, perhaps you find the Because College is Expensive Scholarship an easy one to enter!
Zombie Apocalypse Scholarship
Yep, it's exactly what is sounds like. This scholarship offers students ages 13 and up the opportunity to write about what they would do should their school become overrun by zombies. Due on October 31st, you can be awarded $2,000 by showcasing your creativity in how you would cope with a zombie apocalypse, discussing things like where you would go and the essential items for your survival.
Doodle for Google Scholarship
It's time that all of that doodling in class finally pays off, and with this scholarship, it really does. This is a Google sponsored scholarship in which applicants are asked to submit a doodle that they feel represents the selected theme of the year, 2020's being kindness. The winner of the contest receives a $30,000 scholarship for their tuition, in addition to a $50,000 package to the winner's school. The deadline varies year to year, but usually takes place in March.
Tall Clubs International Students Scholarship
This scholarship has an unusual prerequisite for applicants: all women must be at least 5'10" and men must be at least 6'2". Applications open from September to February and end in March and require all applicants email the Tall Clubs International Foundation with both their height, city, and state as well as entering their first year of college in the following Fall.
Stuck at Prom Scholarship
Recall the MythBusters episode in which they built multiple things out of duct tape, ranging from hammocks all the way to a sea-worthy ship they actually sailed in. What did they leave out? Prom attire. Don't worry, however, because Duck Tape inc. has you covered. This scholarship awards the owners of the best tuxedo and prom dress made strictly from Duck Tape's duct tape product a $20,000 scholarship to wherever the high schooler will be attending college that fall.
Asparagus Club Scholarship
This scholarship is sponsored by the National Grocers Association and is offered to undergraduate juniors and seniors, as well as graduate students. The only requirements are that the applicant has a minimum 2.5 GPA and be majoring in business, food management, or other related fields. In addition, students must describe their ambitions in the food industry as well as professor recommendation. The association awards up to 10 scholarships each year which comprise of a $2,000 award per semester.
Chick and Sophie Major Memorial Duck Calling Contest Scholarship
Do you consider yourself an esteemed duck caller? Well, the Stuttgart, Arizona Chamber of Commerce offers students the chance to capitalize on those skills in the form of scholarships for their education. They award $2,000 to first place, $1,000 for second, $750 for third, and $500 for fourth, and is open to any high school senior graduating in 2020. Applicants must provide their transcript, proper identification, and elite duck calling skills.
Prom Guide Cutest Couple Scholarship
Everyone thinks that they have the cutest relationship on the face of the earth. Well, now it's time to put your money where your mouth is, couples. This contest, sponsored by Prom Guide Magazine, is open to high school juniors and seniors and only requires you to post you and your significant other's prom pic. Winners will be selected by the highest number of votes on Prom Guide's Instagram page, giving the winners $1,000 for their next step in education.
CoffeeforLess.com "Hit the Books" Scholarship
Coffee, most of need this delicious beverage just to get the ball rolling in the morning, and your love for it is about to pay off. In this scholarship, applicants are asked, in 500 words or less, to describe the roll of education in their life, with extra consideration being awarded to those who creatively incorporate coffee into their essay. The winner will receive $500 to go towards their books and school materials for the year.
National Potato Council Scholarship
Are you a fan of potatoes? Are you passionate about potatoes? Well, the National Potato Council has got you covered. This $10,000 scholarship is awarded a graduate student pursuing a career in the potato industry and the selection criteria is based on leadership abilities, grades, potato-related graduate study, and who feels they can best benefit the future of the potato industry.
Shout it Out Scholarship
Sponsored by Unigo, this scholarship is relatively straight forward. This scholarship is open to all students ages 13 and older who are planning on acquiring some form of higher education post high school. In 250 words or less, students must answer the question, "If you could shout one thing to the world, what would it be and why?" The winner is awarded $1,500 towards the tuition of their secondary education.
Parapsychological Association Research Scholarship
Ghost and other paranormal stories are as old as time, and many people write them off as fiction. Well, the parapsychological association thinks that these topics need further research and are willing to sponsor research projects in the paranormal from $2,000 and up to $5,000. If you are willing to dig into what goes bump in the night, then this scholarship is the one for you.
Discover Student Loans Scholarship Award Sweepstakes
The credit agency, Discover, offers students normal student loans, but this contest is a bit different. This may be one of the easiest and most simple scholarships to apply for, as there is no essay or project associated with the application. The only requirement is that you are a high school senior pursuing higher education, and winners are chosen at random and awarded a $5,000 scholarship for their university costs.
The Frederick and Mary F. Beckley Left-Handed Scholarship
If you are a sophomore, junior, or senior at Juniata College in Huntingdon, PA and also happen to be left-handed, then you are eligible for this scholarship. Students are chosen who have competitive grades and are left-handed. That's it. Those are the only two requirements to potentially receive a $1,000 to $1,5000 scholarship.
Gamers Helping Gamers Scholarship
Are you a fan of Magic: The Gathering card game? Well, Gamers Helping Gamers has the perfect scholarship for you. To be considered, applicants must send their transcript, a FAFSA form, and an essay that covers your academic goals, how Magic: The Gathering has impacted your life, what your favorite and least favorite cards and mechanics are, and what you can learn from the game to apply to real-world problems. The winner of this unique scholarship is awarded $5,000 to their place of higher education.
Chick Evans Caddie Scholarship
Any caddie will tell you how miserable carrying around bags in the blistering sun over and 18-hole course can get. Well, the Western Golf Association Evans Scholar Foundation has quite the payoff for young caddies who are heading to college. Applicants must demonstrate a strong caddie record, as well as outstanding character and grades, in addition to financial need. The winner of the scholarship will have their FULL housing and tuition costs covered and is renewable each year so long as the recipient maintains at the very least 2.5 GPA.